Retail is a competitive and ever-changing industry, so when newcomers pop up, it's worth dissecting just what they're doing right. A deeper look can guide fellow retailers going through growing pains as the experience economy comes into full bloom.
A new kind of disruption
When E-commerce first came onto the scene, it changed the retail game. People no longer had to find time to go to the mall to get a new pair of shoes, they just ordered them online and had them shipped to their house.
As our most loyal readers know, a few weeks ago, we talked about how the brick and mortar retailers that have lasted in this retail apocalypse caused by E-Commerce did so by mixing digital elements into their in-store experience.
But now, we're taking it to the *flip* side and showing you how a new, disruptive company is mixing a pseudo "in store" experience into their digital app experience and shaking up industry norms, and what it signals for the future of retail.
I introduce to you: FlipFit.
FlipFit is a mobile retailer that doesn't just exist on social media, it is its own social media. It allows people to shop, try on clothes at home, and chime in on their friends' try-on experiences, too.
We're going to go over some key lessons you can learn from this intriguing new business:
Maintaining the social component in a digital experience
Before brick and mortar imploded, shopping had always been a highly social experience. Going to the mall with my best friends for the day, picking out 20 clothing items, and putting on a mini fashion show in the dressing room is a reoccurring fond memory that shaped my relationship with retail. And for many, this social fitting room experience holds a similar place in their hearts.
It's important to note that the fitting room experience can be highly profitable for businesses, too.
But now, with the popularity of online shopping, this social element experience tends to get sacrificed for efficiency and convenience. By 2021, it's projected that 13.7% of all retail will be done online, making for potentially very isolated experiences.
FlipFit has found a way to have their cake and eat it, too. Their dedicated social media platform allows people to virtually interact with each other and emulates this mall fitting room experience. But customers still enjoy the convenience of shopping from home.
On the FlipFit app, users post pictures of clothing that they receive in the mail to see if their friends (or everyone, if their profile is set to public) think they should keep the item or return it. Studies show that consumers want to discuss purchases online to give and receive feedback, and FlipFit just makes it easier for them to do that directly on their platform.
This format allows for a social retail experience online, and to make it sweeter for the users, voting is actually incentivized. Each vote is worth $1 of store credit, and users can make up to $15 per day. They can put that money right towards in-app clothing purchases.
This incentivized social engagement is pretty genius, but may also have some inherent risk. If people either aren't taking the platform seriously or everyone just really hates the way an item looks on someone, excessive amounts of dislikes on a users' photo can discourage them from buying something they otherwise would. I know it would for me. So while this model has a lot of great opportunity for deep engagement, it also requires an extra level of consideration to make sure it doesn't backfire.
Flexibility and customization
The business model is almost like a subscription box, just without the annoying parts of a subscription.

Like similar curated monthly clothing boxes, FlipFit allows you to put in preferences on budget, styles, and sizes to get custom feed suggestions. The curation "quiz" includes questions about things like measurements, weight, and age.
As research for this article, I downloaded the app and went through the personalization process. While it was pretty in-depth, there's no dedicated stylist helping with curation. Some deeper questions such as ones about lifestyle and body type may be beneficial for an easier, more accurate customization process on FlipFit's end.
So although the customization process is similar to other boxes, unlike the others, there is no monthly subscription cost, no up-front payments when you get your box, and no commitments. You just pay for the items that you want and send back what you don't.
In addition to the "virtual closet," i.e. your try-on box, that you fill via curated suggestions, you are also able to shop similar items to the pieces that you "thumbs up" for other people. Not only does this create this element of customization, but it also further adds to the social dynamic.
Doing influencer strategy right
Influencers are part of the marketing strategy of many retailers nowadays, especially those that cater primarily to millennials and gen Z'ers. FlipFit understands this, and they have implemented influencer marketing as an initial strategy to get people to download, engage with, and trust their app.
For about the first 3 months, around 500 influencers will be posting the looks they receive in their boxes and encourage their followers to vote. The presence of prominent influencers on the app builds validity, which is crucial here because they are asking users to download a whole new social media, not just engage with their brand on other platforms.
What is particularly brilliant about their use of influencers isn't just the exposure; customers are getting trained on how to use the app as they are voting on their favorite influencers' looks — and maybe even shopping similar items. Being able to see real clothes on real people helps potential buyers relate to the clothes and see what might be best for them based on body type and similar lifestyle aesthetics.
Give the people what they want
While the rest of the industry tries to avoid returns like the plague, FlipFit understands that they need to lean into what customers want, not run from it.
Just like in the fitting room where you try on 6 items but decide to only buy 2, people don't want to keep everything they buy online. Typically, the return process for online purchases is so frustrating, time consuming, and riddled with return fees that it's just easier to keep something in your closet that you will probably only wear once, if at all.
FlipFit has simplified it. They send prepaid return labels with every box, because return is expected. They want their customers to really love the pieces the purchase, and more importantly love to purchasing process, so they make it as easy as possible to send back what they're not feeling, no questions asked.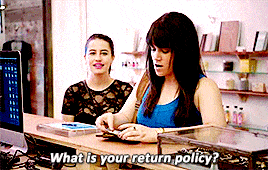 While other subscription boxes, like Stitch Fix, also offer free and simple returns, customers still end up paying even if they don't like a single thing in the box, thanks to the monthly "styling fee." With FlipFit, you really just pay for the things you love. Period.
Not an easy industry to break into
When E-Commerce was first introduced to the retail world, it was a much simpler time. Customers were used to a relatively simple experience, and they remained loyal to brands for the most part because of lack of an overwhelming amount of choices.
Not so much now.
Just like brick and mortar adapted to survive the violence that E-Commerce brought to the industry, modern retailers won't take disruption lying down. Which is great for customers, but it also means it's a lot harder for companies to make a huge splash, because everyone seems to be jumping in the pool at the same time.
FlipFit is trying to break into the highly competitive world of e-commerce and subscription boxes, so it faces huge hurdles like customers with high expectations and almost no loyalty. Just look at the sheer amount of subscription boxes alone: Nordstrom's Trunk Club, FabFitFun, ThredUp. Though FlipFit seems to be set up to surpass several pain points others in the industry have, the industry is constantly evolving and will require continuous rethinking and restructuring in order to survive.
It definitely isn't a walk in the park and no one is safe no matter how customer-proof their model seems to be. 
Hot Take: disruption is getting disrupted
So what lessons can you, as a retailer, take away from what FlipFit is doing? The main thing is to remember is that convenience cannot replace the things that make people feel a connection with their shopping experience.
The social aspect has been getting pushed to the side with the rise of E-Commerce, but that's not gonna fly if you want to remain competitive. Newcomers like FlipFit will clearly be poised to disrupt retail yet again, at least for the moment, because the foundation of their company is customer-centric, simple, and gives people the opportunity to have the best of both worlds in terms of a great in-store and great digital experience.
Hannah Michelle Lambert is the Digital Marketer at Worthix where she leads all things social, conversion, and nurture. She cut her teeth at the intersection of Customer Experience and SaaS technology and is passionate about innovative, customer-centric marketing strategies. She is a graduate of the University of Michigan and current resident of Atlanta.
About

Hannah Michelle Lambert

Hannah Michelle Lambert is the Digital Marketer at Worthix where she leads all things social, conversion, and nurture. She cut her teeth at the intersection of Customer Experience and SaaS technology and is passionate about innovative, customer-centric marketing strategies. She is a graduate of the University of Michigan and current resident of Atlanta.