At the time of this writing, and by pure, unadulterated coincidence, there's a #ChickenSandwichWar raging on Twitter about the very subject of whose crispy chicken sandwich is the one true ruler of the fast food kingdom. Popeyes and Chick-fil-A's corporate accounts were practically at each other's throats, and the ribbing is ongoing as I write this. We've been meaning to write about the fast food customer experience for some time, and we couldn't ask the universe for a more timely opportunity.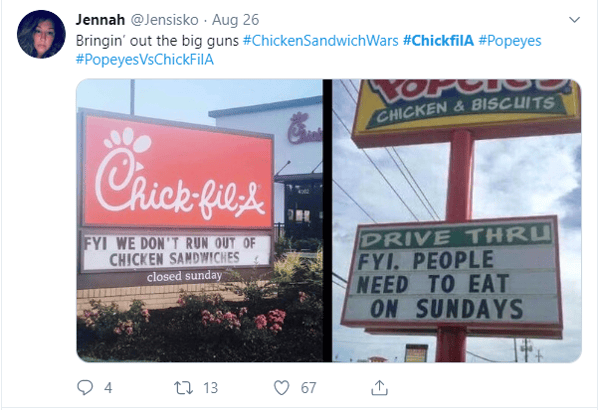 And it wouldn't be the first time someone has tried to wrest the chicken sandwich mantle away from the chicken king. ShakeShack and Fuku both made valiant attempts at the signature sandwich, and both sandwiches were solid culinary choices. But it wasn't enough to make them the growth phenomenon that Chick-fil-A is, and it has everything to do with their customer experience.
It is now the second-largest quick-service chain in the United States, it does more business in a week than fast-food titan McDonalds, and retains more of its employees than any of its competitors. The restaurant is also a consistent top dog in its industry in the American Customer Satisfaction Index, scoring a whopping 87 in 2018, with the second best trailing by as much as 5 points.
They remain the undisputed leader in customer service, and it definitely moves the needle. QSR Magazine reports that a single Chick-fil-A location will make an average of around $4.1 million in sales per year, compared to approximately $2.7 million for a McDonalds and $945,000 for a Starbucks branch.
That's despite being closed every Sunday. And we should also mention that Chick-fil-A delivers those huge returns with a lot fewer restaurants than its biggest competitors: a mere 2,363 locations compared to Starbucks' 28,218 and McDonald's whopping 37,855. That might explain why many locations need two drive-thru lines.
The numbers don't lie, and they offer a fair few lessons that any brand can learn from when it comes to delivering excellent customer service and building a brand.
1. Putting a premium on customer experience
Part of Chick-fil-A's culture is going the extra mile for customers. Unlike other fast-food competitors, it's not unusual for staff to check in on dine-in customers to see if they're doing okay of if they need help. Overloaded and overwhelmed by your kids? No problem — an employee will volunteer to help carry your trays of food for you. Going above and beyond what is expected — and committing to making it an operational part of the service — is a large part of what makes the restaurant so successful.
This kind of quality customer service, while unique in the fast-food business, is pretty much standard across all stores. The "my pleasure" spiel, while a little disconcerting, really seems genuine. The idea probably stemmed from the kind of language used by wait staff at more expensive establishments. The Chick-fil-A leadership decided to adapt the same approach so that customers throughout all branches would feel better, even just by the way staff talked to them.
"My pleasure" is a great talk trigger (something passed around in casual conversation that generates organic interest in your brand), a subject we discussed with Jay Baer in Voices of CX: Season 3, and it's worth a visit if you haven't listened already.
Even Chick-fil-A's famously difficult franchising process is designed so that only the most committed to the brand get the job, ensuring that there will be much more attention paid to keeping the quality of the brand, its products, and its customer service. And it seems to be working.
2. People matter: Retaining good talent
While the Sunday break can partly be traced to restaurant founder S. Truett Cathy's Southern Baptist roots, the chain also considers it time for employees to rest or spend time with their families. Despite the personal stand of its leadership, the company itself is an equal opportunity employer, so employees are free to spend that time however they wish.
Glassdoor hosts more than 5,000 reviews from former and current employees of Chick-fil-A — the company has a score of 3.9, with 75% of reviewers saying they'd recommend working there to a friend. One such review reads:
"The work itself is challenging but satisfying. You are constantly helping others get what they wanted, which can give a sense of accomplishment. In addition, the job itself pushes great skills onto you such as time management, leadership and teamwork — all of which come into play as you work here."
And while employees make around the same average hourly rate as other fast-food workers, Chick-fil-A makes it a point to train their employees more — training that pays off even when the employee leaves to pursue a career elsewhere.
"The better we train, the longer people stay with us," Chick-fil-A manager Kevin Moss told Business Insider. In his 20-year stint as manager, he's helped employees pursue everything from a marketing degree to a career in photography. Employees can also earn certificates in conflict management in restaurants, cost management in the food industry, and more.
3. Clever marketing: empowering employees
Chick-fil-A's marketing is all about building brand awareness and showcasing the quality of its customer service, community involvement, and great food. And they double down on those promises. They have a "Cow Appreciation Day" where customers who come in cow costumes get a free sandwich. Local franchisees are further encouraged to think up their own local events for their communities.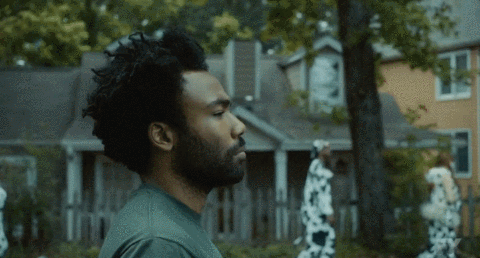 This has led to things like Halloween Parties, Football Booster events, Daddy Daughter Date Night, and others, which can also be adapted by other branches. This way, the brand looks less like a faceless corporate food behemoth because employees are empowered to throw their own ideas and personality into the mix.
But does Chick-fil-A's iffy Brand Identification hinder business?
As promoters of CX, we're deeply vested in routing out success stories to find their common threads, and Chick-fil-A is definitely a standout. Despite that, we do have to pause and remember that they're not perfect either.
Countless people world-wide feel discriminated against or offended by the stances Chick-fil-A has held on marriage, sexual orientation, religion, choice, and other controversial socio-political issues over the years.
But while this positioning of the brand has caused non-stop protests, calls for boycott and very vocal detractors, statistics suggest that this has not stopped Americans from eating there.
Even presidential hopeful Pete Buttigieg, who is openly gay, recently said about the chain "I do not approve of their politics, but I kind of approve of their chicken."
It seems that, while brand-identification, or the lack thereof can be a strong driver of the decision to purchase from a brand or not, when it comes to Chick-fil-A, their consistently amazing customer service and quality appear to be enough to outweigh the bad, and are 'worth it', even to patrons who strongly disagree with their ideals.
More than just a chicken sandwich
Customer experience and its human-centric ideas are deeply ingrained in the culture of Chick-fil-A, which makes matching them a tall order. Long-established franchises as well as up-and-coming disruptors are taking notice of the impact of good CX and are scrambling to keep up.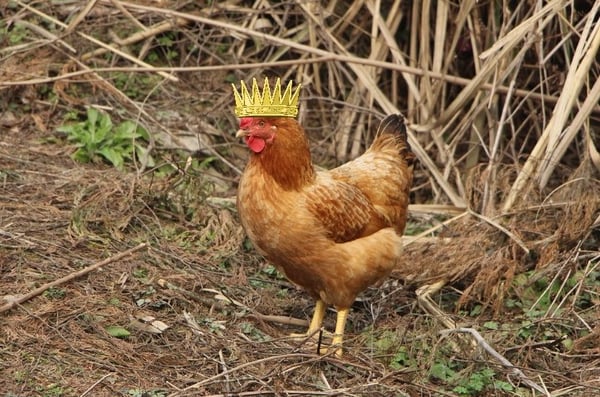 Whether Chick-fil-A will continue to reign supreme as the chicken king, only time will tell. What we can guarantee at this time is that big or small, your business can't afford to ignore the people that make it great, be they customers or employees.
I'm Worthix's Head of Content, editor and producer of the Voices of CX Blog and Podcast and backup watercooler comedian (see Peter Sooter). I'm a Film Major who enjoys good writing (books, too), martial arts and competitive games, virtual or not.
About

Steve Berry

I'm Worthix's Head of Content, editor and producer of the Voices of CX Blog and Podcast and backup watercooler comedian (see Peter Sooter). I'm a Film Major who enjoys good writing (books, too), martial arts and competitive games, virtual or not.